Levocarnitine Injection USP
Levikot
Injection
For I.V. Injection only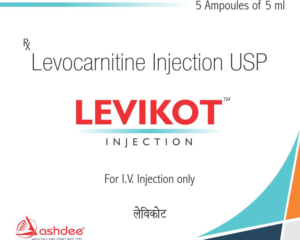 LEVIKOT(levocarnitine) is a carrier molecule in the transport of long-chain fatty acids across the inner mitochondrial membrane.
The chemical name of levocarnitine is 3-carboxy-2(R)-hydroxy-N,N,N-trimethyl-1- propanaminium, inner salt. Levocarnitine is a white crystalline, hygroscopic powder. It is readily soluble in water, hot alcohol, and insoluble in acetone. The specific rotation of levocarnitine is between -29° and -32°. Its chemical structure is:
Empirical Formula: C7H15NO3
Molecular Weight: 161.20
LEVIKOT (levocarnitine) Injection is a sterile aqueous solution containing 1 g of levocarnitine per 5 mL vial.
During pregnancy, this medication should be used only when clearly needed. Discuss the risks and benefits with your doctor.
LIKE WHAT YOU SEE?
Contact us today for a no obligation consultation for your next appointment